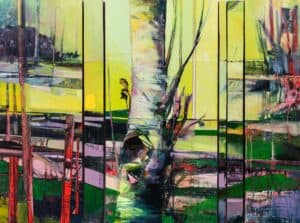 40 North is thrilled to announce the Signature Image for the 2022 Boneyard Arts Festival! After evaluating 90+ outstanding submissions, a panel of local arts professionals selected Kim Curtis' Reconfigured: Seven (oil, Pantone paper, tape and pins on three wooden panels and two panels of rigid insulation foam), to be the signature image of the 20th Anniversary of the Boneyard Arts Festival! The Boneyard Arts Festival signature image is featured on all festival registration materials, posters, postcards, billboards, print and online advertising, as well as on the cover of the Boneyard Arts Festival quick guide.
"The landscape we observe today is one inherited from the past: a history of additions, subtractions, restorations and reconfigurations. Whether our surroundings are urban or rural, our uses and intentions for them are constantly shifting. We introduce materials, we remove others.  We excavate and we replace. The land recovers and adapts, absorbing new additions, covering old exposures.
Reconfigured explores this relationship of action and reaction, found and imposed.
Construction materials are introduced, forcing the developing imagery to adapt. Preserved areas are exposed, revealing history underneath. Resolved areas are altered or scraped away.  Panels are moved into new positions or into different paintings entirely. Spaces are abandoned, dissimilar areas adjoined, foreign elements absorbed or rejected.
The resulting compositions range from graceful adaptation to abrupt disturbance. Elements of ugliness and beauty, history and novelty, disruption and resolution reflect the information each of us absorbs as we move through our own surroundings. They invite us also to consider the cumulative history of our spaces which are constantly in flux."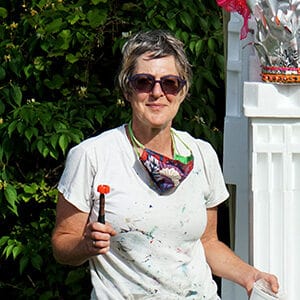 Kim Curtis' work deals with the environmental repercussions of human activity. Through repeated disruption of her imagery, Curtis simulates the accumulation of marks left behind in our landscapes from processes such as construction, extraction, adaptation and restoration. The resulting compositions, often multi-paneled and incorporating cast-off materials, reflect the beauty, oddity, and ugliness of our spaces. Her work has been shown and collected throughout the US and abroad, primarily through her 15-year relationship with Kasia Kay Art Projects in Chicago. A native Californian, she began her artistic career as a costume designer and theatrical craftsperson working throughout the San Francisco Bay Area, including six years as Master Craftsperson for the San Francisco Opera costume shop. Ms. Curtis holds degrees from UC Berkeley and the California College of Arts and Crafts. She currently teaches in the Department of Theatre at the University of Illinois Urbana-Champaign and works in painting, sculpture, and design from her studio in Urbana, Illinois. http://www.kimcurtis.net/